Welcome to the Trompe & Cors Academy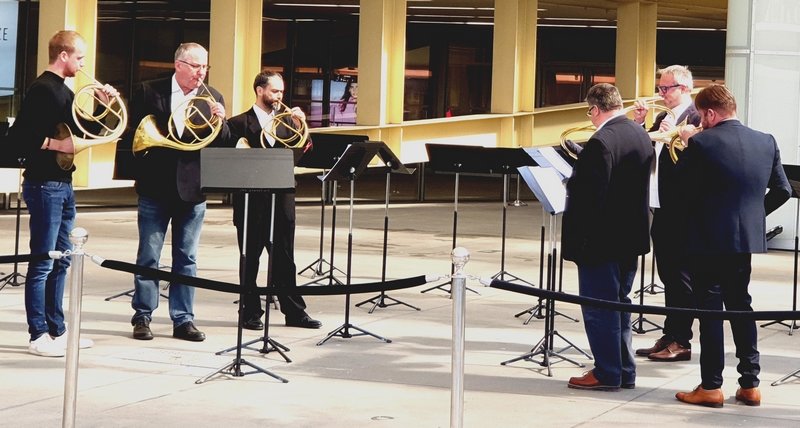 ATC, Trumpet and Horn, the last 10 articles…
"Trompe et Cors ATC About us Press Kit Introducing ATC "Mediatheque and Boutique Entertainment Music A composition by Hervé TEKNIA (Scores and MP3) Là-Haut sur la Montagne, Duos Trompes (or Cors) et Piano "Media library Hunting music Douze fanfares d'Équipages...
read more
ATC, Horns and Trumpets about us…
About us
HISTORY
The reasons for the creation of the association
Although belonging to the same family and having common origins, the practices of the trumpet and the horn have mostly parallel lives.
The fantasies for trumpet music are still strongly inspired by the timbre of venereal music, which is a reference in this practice, and are notably found far from conservatories, orchestras, musical creation, and everything related to music for natural horns and French horns.
However, the music of these different instruments is extremely vast and in many ways shares the same themes of inspiration as those of the hunting horn.
So the idea is:
To create the Horn and Trumpet Academy (ATC) with the aim of bringing together the entire horn family, from the hunting horn to the modern horn, in an international perspective.
GOVERNANCE
The ACADEMIE TROMPE et CORS ®, an association under the French law of 1901, is structured in a traditional way in order to be reactive and efficient, flexible and agile,
To this end, ATC ® has put in place good governance to ensure a favorable development of its projects:
A board of directors composed of members representative of trumpet and horn music.
A Board of Directors composed of horn players and ringers to ensure the management of the activities of the TAC.
GOALS
IMPROVE
The rich musical heritage of trumpets and horns.
PILOT
Eclectic and innovative projects around learned, traditional, hunting and entertainment music.
DEVELOP
The production of old, contemporary and new works.
DIFFUSE
Our heritage through concerts, study days and recordings.
Trumpet and Horn
To be quickly informed of our latest articles
Subscribe to the newsletter by filling out the form below.
Privacy
Neither your email nor your name will be transferred to third parties.
Cette publication est également disponible en :

Français (French)

Deutsch (German)