ACADEMIE TROMPE ET CORS,
AMBASSADOR OF THE HUNTING HORN IN POLAND
100 years OF THE POLISH HUNTING SOCIETY
From March 17 to 19, 2023, the Académie Trompe et Cors represented the hunting horn with brio at the Poznan hunting show to mark the 100th anniversary of the Polish hunting association, to which the ATC is particularly grateful for the quality of its welcome.
It was a great opportunity to meet and exchange ideas with ensembles of horn players from Poland, Slovakia and the Czech Republic, and to discover the richness and talent of these horn ensembles expressing their hunting music.
An emotional moment with the "Polish Trumpeters", so happy to meet up with their "brothers and sisters in D".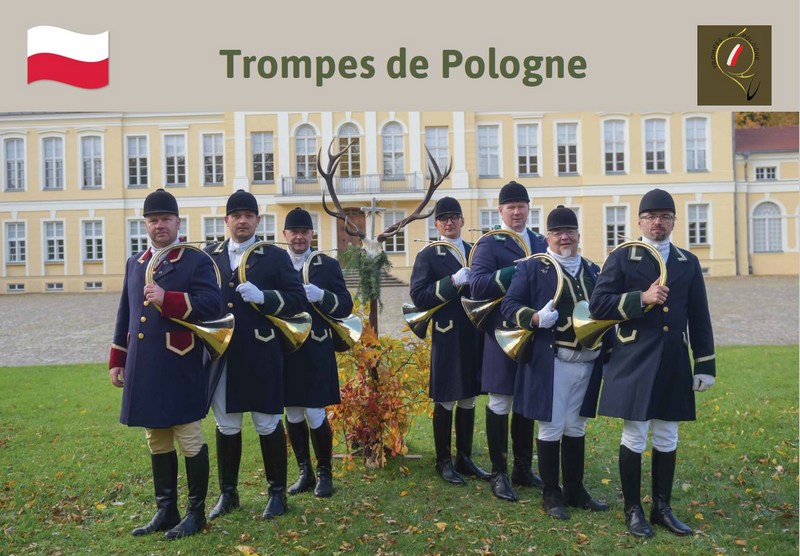 An intense and varied program of concerts marked the highlights of the show. Each ensemble was presented in detail before performing in its own repertoire and key. Trumpets and horns were combined in pieces written or transcribed for these instruments, which are not in the same key, thus creating a musical atmosphere.
Under the baton of Petr Vacek, conductor of the Czech ensemble, several pieces were performed: "Együtt" càd "Ensemble" written by Hervé Teknia, horn player and ringer, Te Deum Laudamus, composed by Petr Vacek, Beethoven's Ode à la Joie, variations on Bonsoir Breton written by the latter. Some ears may have been shocked by the key changes and the transition from one to the other, but the unison of the horns was a great moment, innovative and rare.
Ringers from the Trompe et Cors Academy and the Polish Trumpeters had the honor of celebrating St. Hubert in the Solzcz Academic Church with ringing tunes from the traditional repertoire of St. Hubert's masses.
The hunting horn in D took pride of place, with the audience appreciating its sound and brilliance. Conversely, contact with horn players from the various ensembles present opened up new avenues of exchange and musical projects.
Our thanks to the Polish horn players for this exceptional event, which showcased hunting music to perfection.
Trompe and Cors, in tune!
Luc Avot (President of ATC)
Cette publication est également disponible en :

Deutsch (German)