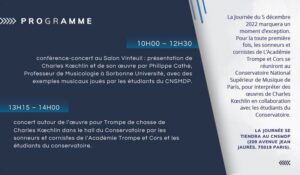 National Superior Conservatory of Music and Dance of Paris, 209 Avenue Jean Jaurès 75019 PARIS.
The day of December 5, 2022 will mark an exceptional moment. For the first time, the sounders of the Trompe and Horns Academy will meet at the National Conservatory of Music and Dance in Paris, to perform works by Charles Koechlin in collaboration with students from the conservatory.
PROGRAM
10 a.m. – 12:30 p.m. Salon VINTEUIL (Conference-Concert):
Presentation of Charles KOECHLIN and his work by Philippe CATHÉ, Professor of Musicology at Sorbonne University, with musical examples played by CNSMDP students,
1:15 p.m. – 2:00 p.m. in the CONSERVATORY HALL (Concert):
Around the work for Hunting horn by Charles KOECHLIN by the bell ringers of the Tromp and Horns Academy and the students of the conservatory.
Cette publication est également disponible en :

Deutsch (German)