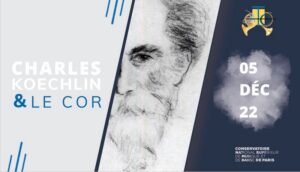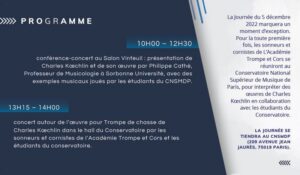 National Superior Conservatory of Music and Dance of Paris, 209 Avenue Jean Jaurès 75019 PARIS.
Der 5. Dezember 2022 wird ein außergewöhnlicher Moment sein. Zum ersten Mal treffen sich die Trompe and Horns Academy am Nationalen Konservatorium für Musik und Tanz in Paris, um gemeinsam mit Studenten des Konservatoriums Werke von Charles Koechlin aufzuführen.
PROGRAMM
10:00 – 12:30 Uhr Salon VINTEUIL (Konferenz-Konzert):
Präsentation von Charles KOECHLIN und seiner Arbeit von Philippe CATHÉ, Professor für Musikwissenschaft an der Universität Sorbonne, mit Musikbeispielen, gespielt von CNSMDP-Studenten,
13:15 – 14:00 Uhr im Wintergartensaal (Konzert):
Rund um das Werk für Jagdhorn von Charles KOECHLIN von den Glöcknern der Tromp and Horns Academy und den Studenten des Konservatoriums.
Cette publication est également disponible en :

Deutsch (German)